The Andromache article is under attack! Please help Black Sails Wiki by expanding it, adding pictures, or improving existing text.
Andromache



Vital statistics
Port
Boston
Owner
British trading company
Captain
Dyfed Bryson (deceased)
Crew
Hayes (deceased), 60 men (all deceased)
Passengers
Status
Destroyed, assumed sunk
Type
Tall ship
Weapons
26 twelve-pound cannon
Battles
Attack on the Andromache
Affiliation
Guthrie Trading Company
First appearance
IV.
The Andromache was a supply ship out of Boston captained by Dyfed Bryson. Besides valuable cargo like fine china and sugar, the Andromache also carried slaves.
Season One
Edit
When Eleanor Guthrie and James Flint join to attempt taking the Urca de Lima, Flint states that he needs 12-pound cannon, a more powerful yet hard to obtain upgrade needed to stand a chance facing the Urca. Eleanor decides to use the cannon which arm the Andromache, a ship belonging to her father's business. While she is led to believe that he will give her the cannon, the captain, Dyfed Bryson, joins Richard Guthrie in his schemes to get rid of the pirates and leaves with the cannon. When Flint sees this, he chases the Andromache.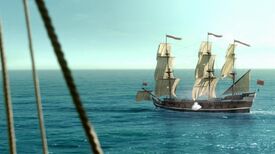 The ship has over a dozen twelve pounder cannon, making its weaponry extremely powerful. When fully manned, the ship carries a complement of sixty men. Under the command of Captain Bryson, that ship has never been boarded, as he knows the routes he sails well, having traveled them for many years
Bryson is a skilled commander and tactician. He is able to determine movements to better ready against attack.
In the events of boarding, the ship has a bunker, capable of holding at least twenty men, and is near impossible to breach. It is only with the help of some of the cargo of slaves that Flint is able to take the ship.
The Andromache is a trading vessel and carries varied items and things of value, including things like china plates. They also carry slaves, which are held in a room underneath the bunker.
Dyfed Bryson (Captain; deceased). Killed by Eme.
Hayes (Quartermaster; deceased). Killed by Slaves of Andromache.
Third in Command (Third in command; deceased). Killed by Mr. Scott.
Burnett (Crewman; deceased). Killed by Beauclerc.
Harris (Crewman; deceased). Killed by Beauclerc.
Image Gallery
Edit
Appearances
Edit