The Starz article is under attack! Please help Black Sails Wiki by expanding it, adding pictures, or improving existing text.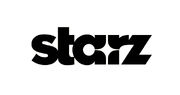 Starz is an American cable and satellite television channel. It is considered to be the main part of the services of Starz, LLC. Starz's features mainly theatrically released motion pictures, along with some first-run original television series.
Ad blocker interference detected!
Wikia is a free-to-use site that makes money from advertising. We have a modified experience for viewers using ad blockers

Wikia is not accessible if you've made further modifications. Remove the custom ad blocker rule(s) and the page will load as expected.